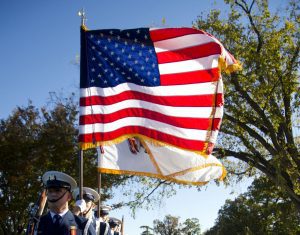 Tomorrow is Veteran's Day. This is our federal holiday which honors the brave men and women who have served our country in the armed services. They have risked and sacrificed their lives for our freedom. America as we know it, would not exist if it were not for those who have fought for our right to life, liberty and the pursuit of happiness in a free and democratic society.
So what is the difference between Veteran's Day and Memorial Day? Good question. Though both honor our military personnel, Memorial Day, is set aside to remember and pay tribute to soldiers that died in battle or from a wound sustained in one. Veteran's Day on the other hand, recognizes ALL those who served honorably in the military, during war or peace. Its primary purpose however, is to thank the living veterans for their bravery and contribution to our national security. The holiday, which used to be called Armistice Day, was first celebrated on November 11, 1919 to honor World War I soldiers. The date was selected because it was on this day at 11:00 AM in 1918 that the Allied Nations and Germany reached a cease-fire, or Armistice, which led to the end of the 'Great War,' as it often called. President Woodrow Wilson asked all Americans to briefly suspend work at 11:00am to honor WWI veterans on this day. It wasn't until 1954, after America's engagement in World War II and the Korean War, US officials changed the name to Veterans Day, so that all military personnel could be honored.
It is always my honor and habit to thank a serviceman or veteran when I see them, and thank them for their service. My Dad was a Korean War Veteran and was very proud of his service to our country. It was part of who he was and how he lived. There are many ways that the Charleston area are thanking Veterans this year. I think it says a lot for us as a city and nation that we hold our veterans in such high esteem. Check out some of these great specials and offerings for Veterans :
Applebees-Veterans and military can choose from one of seven signature menu items for free on November 11, and receive a $5 off coupon to use Nov. 12-27, 2016
BJs Restaurant and Brewhouse: Free entrée under $12.95 for veterans and military and $5 BJ's beers for everyone on Friday, November 11.
Bonefish Grille-Active and retired service members with valid military ID get free Bang Bang Shrimp on November 11.
Chili's-All US Veterans and Active Duty Personnel can enjoy a meal on Chili's all day 11/11 at participating locations.
Chipotle-is giving a BOGO burrito, bowl, salad, or order of tacos on November 11 to all U.S. active-duty, reserve, retired, veteran, and National Guard service members and their spouses with military ID.
Cracker Barrel-Veterans will receive a complimentary Double Chocolate Fudge Coca-Cola Cake dessert on November 11, and other guests can support Operation Homefront with a $5 donation that will be matched by the restaurant or with the purchase of a Cracker Barrel rocking chair.
IHOP-Free Red, White and Blue pancakes (glazed strawberries, blueberry compote and whipped cream) to veterans and active duty military on November 11, 7 a.m. to 7 p.m.
Longhorn Steakhouse-Free appetizer or dessert on November 11 – no purchase required – for anyone showing proof of service, and 10% off for guests who dine with the service member.
Olive Garden-On November 11, veterans and active duty military get a free entrée from a special menu, along with salad and breadsticks. Family members dining with the veteran or military member get 10% off meals too.
Red Lobster-Veterans and active duty military members get a free appetizer or dessert November 10 and 11th.
Ruby Tuesday-Veterans, active military and reserve get a free appetizer on November 11.
Great Clips-On Veterans Day, Nov. 11, 2016, veterans and active service members  get either a free haircut or a free haircut card to redeem with proof of military service through Dec. 31, 2016, at any U.S. Great Clips salon. All customers who get a haircut at a U.S. Great Clips salon on November 11 get a free haircut card they can give as a thank you to a current or past service member.
Meineke-Veterans and active duty military will receive a free basic oil change at participating locations on Veterans Day, November 11.
Walgreens-20% off for veterans, military, and military families who have Balance Rewards cards. Some exclusions apply; valid on November 11, 2016.
Handshakes and hugs for all US Veterans!