Quick & Easy Ways to Improve Your Rental Home's Value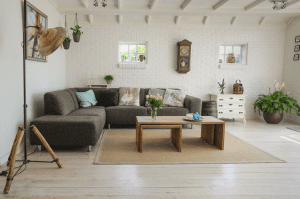 As more and more rentals continue to pop up on the market, it can be hard to differentiate your property and add some value that renters will notice. Of course, home values are highly dependent on the market, but there are still some really quick and easy ways to add value without exceeding any budgets!
Renovate the Kitchen
An updated kitchen is one of the top 5 most desirable home features people look for when looking at homes and rentals. They want to see high-quality cabinets, countertops, and stainless steel appliances. If your kitchen renovation budget is tight, quartz is a great alternative to granite  or marble. It has a similar look without the higher price tag and is extremely durable, which makes it perfect for rentals. You should also consider repainting the cabinets and updating the knobs to give them a newer appearance.
Add a Fresh Coat of Paint
All rental property owners know that renters aren't exactly the easiest on their walls. Overtime, scratches, scuff marks, and holes are bound to appear. These are an eyesore to potential new renters, so do yourself a favor by fixing them up in between leases. First, fill all the holes and smooth out the walls. Then, either add a new coat of paint to match what you already have or switch it up by painting the walls a more modern color. Some of the top home colors right now are light greys, whites, and also light blues. These subtle and more neutral shades can really brighten up the space and even make rooms appear larger. But since these colors are prone to showing more damage, consider buying a higher-quality paint that will hold up over time and withstand some basic wear.
Ditch the Popcorn Ceiling
It's time to say goodbye to the 1970s and welcome your rental into today! Popcorn ceiling is one of the quickest ways to give away your rental home's age and detract renters. But the good news is that popcorn ceilings are easy to change! You can hire a professional or, to save money, you can make this a DIY project. There are lots of helpful videos out there from home renovation experts that will give you step-by-step instructions and tips for removal. It's a messy task but will be well worth the new modern feel that you'll be creating in your rental.
Add Some Curb Appeal
It's not always what's on the inside that matters. Today's renters are also looking for places with great curb appeal! Thankfully, these fixes are simple and quick. One way to make the outside of your rental look better is by getting a new door. Traditional black is always a good idea or, if it's located in a more artsy community, try making a statement with a bright color door instead! Low maintenance greenery, like bushes and ivy, can add some character and privacy. You can also add some cool lighting or stylish house numbers. Finally, you might want to consider power washing your siding and cleaning the windows to really make your rental shine!
Include a Unique Selling Point
With so many other rentals out there, you need to make yours stand out from other contenders and give renters a reason to sign a lease on your property over someone else's. One way to do this is by adding a unique feature to your property that people can only get from you! While this may initially be a costly expense, you'll be able to charge a higher rent price. Some ideas to add all new amenities, get custom light fixtures, or showcase some local art on the walls. The ideas are limitless here and depend on your market, so get creative and have fun with it!
The old saying is true; sometimes you really do need to spend money to make money. But with a few little fixes and tons of budget-friendly options out there, upgrading your rental property doesn't need to be a huge expense. Try to add in a few new features each year and overtime you'll have better success keeping up with the latest trends and gradually adding value to your rental property.