Charleston, South Carolina, or the "Holy City," is a city rich in history, charm, and Southern hospitality. From its stunning architecture to its vibrant culture, Charleston offers a wide variety of activities and attractions fit for families of all ages. If you're planning a family vacation to this beautiful coastal city, here are some of the best places to check out that will please both kids and adults.  
The South Carolina Aquarium
Located on the Charleston Harbor, the South Carolina Aquarium is a must-see destination for families. This award-winning attraction provides a fascinating underwater experience, featuring marine life from river otters and sea turtles to sharks and colorful fish. Children can enjoy interactive exhibits, and touch tanks, and even witness daily animal feedings, making it an educational and entertaining experience for the whole family. The aquarium is home to a sea turtle care center, where they rescue, rehabilitate, and release turtles in desperate need. 
Charleston City Market
Immerse your family in the vibrant atmosphere of the Charleston City Market. The market is a historic open-air market that has been operating since 1807. Take your family and stroll through the enthusiastic stalls filled with local vendors selling unique crafts, artwork, souvenirs, and traditional Gullah sweetgrass baskets. The market also offers delicious food options, such as low-country cuisine and freshly squeezed lemonade, allowing you to savor the flavors of Charleston. We can assure you that there is something for everyone.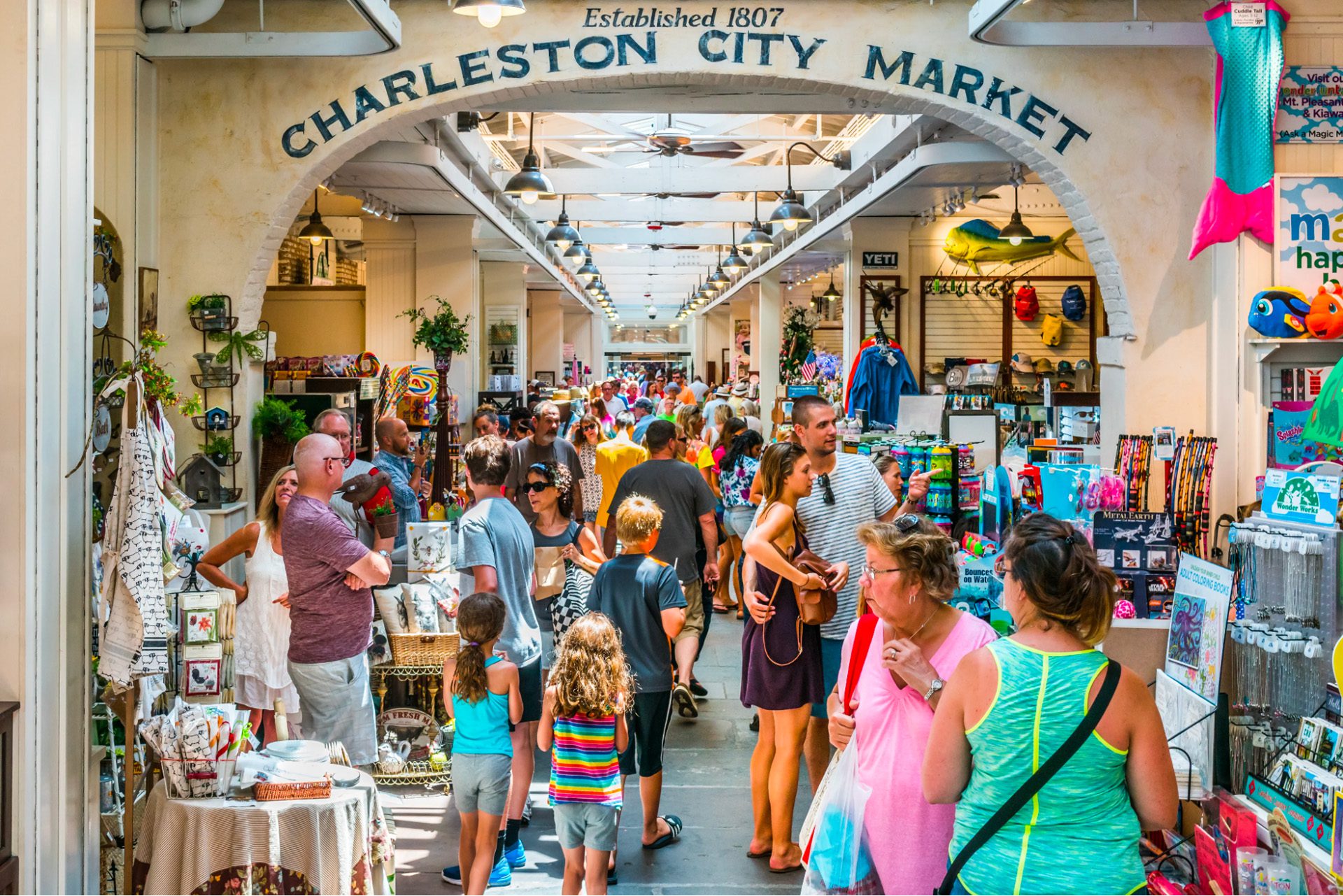 The Children's Museum of the Lowcountry
For families with young children, the Children's Museum of the Lowcountry provides an interactive and engaging experience. This hands-on museum offers a variety of exhibits and activities designed to stimulate creativity, imagination, and learning. From an art room and water play area to a pirate ship and medieval castle, children will have a blast exploring and discovering new things in a safe and educational environment.  
Patriots Point Naval & Maritime Museum
Located just across the harbor in Mount Pleasant, the Patriots Point Naval & Maritime Museum offers a captivating journey through American naval history. Families can explore the decks of historic warships, including the USS Yorktown aircraft carrier, the USS Laffey destroyer, and the USS Clamagore submarine. The museum also features exhibits highlighting the experiences of sailors, aviators, and marines, allowing visitors to gain a deeper appreciation for the sacrifices made by the armed forces. We can promise you this would be an enriching experience filled with learning.
Magnolia Plantation and Gardens
Escape the hustle and bustle of the city and immerse yourself in the natural beauty of Magnolia Plantation and Gardens. This picturesque plantation, founded in 1676, offers breathtaking gardens, scenic trails, and wildlife encounters. Take a leisurely stroll through the camellia gardens, board the nature train for a narrated tour, or hop on a boat to explore the plantation's scenic waterways. The plantation also hosts educational programs and nature exhibits, making it an excellent destination for families and those interested in nature and history.
From educational museums and captivating wildlife encounters to historic landmarks and vibrant markets, Charleston had a wide variety of memorable experiences. Charleston is waiting to welcome you with open arms! When working with CREC, we will make sure you find the perfect place to spend your summer days. Even during summertime, we will always go above and beyond to ensure client satisfaction. Reach out to us today with any questions at (843) 574-9100 or email us at [email protected].